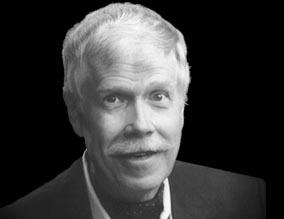 Richard Toensing's compositions span a variety of styles, from the gestural, free atonal work of the sixties and seventies to a renewed interest in various forms of diatonic music in more recent years. He has written numerous works for chorus, chamber music in various genres, and works for large ensembles.
Recognizing that he has traveled through the atonal revolution, Toensing is now at home with the stability of modal/tonal writing, which serves for him as an analog for the stability of Orthodox theology. And, it is that theology, Toensing believes, that satisfies humanity's most deeply felt spiritual needs.
In all of Toensing's works, a listener is most struck by the transparency of sound. By placing but a single idea in each register, Toensing achieves what many composers have attempted but few (Berio, Bach, Machault, and Mozart come to mind) have accomplished: a sparkling clarity of parts.
Born in St. Paul, Minnesota (1940) and raised in the Lutheran faith, Toensing converted to the Eastern Orthodox Church in 1997, the end of a long journey begun when he was a teenager. Initially drawn to the Eastern arm of Christianity through its holy art—the gold-leafed icons of Byzantium and the sonorous music of the Russian church—Toensing early became fascinated with Orthodoxy's rich traditions, centuries-long continuity and, ultimately, its teachings.
The Kontakion on the Nativity of Christ, written for Cappella Romana in 2007, is the most Orthodox of all Toensing's works and uses some of the traditional tonal formulas of the Russian "Greek" chant, the mystical nature of St. Romanos' text, at once both intimate and powerful, and the Orthodox tradition of antiphonal double choir writing combine with 21st-century choral textures to create a deeply felt work rooted in the tradition, and yet new in many significant ways.
Toensing's earlier major choral work, Responsoria, written in 1995 before his conversion to the Eastern Church, perhaps represents the composer's own symbolic bridge spanning the thousand-year schism between Latin and Byzantine churches. Responsoria is based on the three books of chanted Roman Catholic prayer services for Holy Week. These responsorial texts have been set by several composers, most notably the 16th-century madrigal writer Gesualdo, whose setting inspired Toensing's Responsoria.
Toensing has won numerous awards for composition, including the Joseph H. Bearnes Prize from Columbia University, two BMI student composer awards, a Guggenheim Fellowship, and a commission from the National Endowment for the Arts. He has been a MacDowell Colony Fellow three times. He received his B. Music degree with honors from St. Olaf College and his M.M. and D.M.A. degrees from the University of Michigan, where he studied with Ross Lee Finney and Leslie Bassett.
Toensing held an academic appointment at Uppsala College in New Jersey prior to accepting a position at the University of Colorado in Boulder, where he served as a professor of composition and as the Director of the University's Electronic Music Studio, New Music Festival, and New Music Ensemble. He served as Chair of the Composition/Theory Faculty at Colorado from 1984 to 2001. Toensing made his home near Boulder, Colorado. He completed his section of The Psalm 103 Project in February of 2014, and he passed away on 2 July 2014. The premiere performances and recording of the score will be dedicated to his memory.