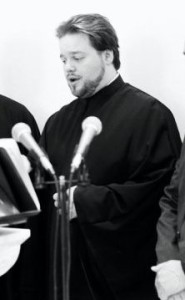 Protopsaltis John Michael Boyer has been performing since the age of 7, then the youngest ever member of the Portland Opera Association.  As a specialist in Byzantine chant repertoire, he lectures at workshops and seminars on Eastern Orthodox liturgical music across the United States. In addition, he coached the vocal ensemble Chanticleer in their Grammy-winning recording of John Tavener's Byzantine-influenced Lamentations and Praises. Boyer has received critical acclaim for his solo chant performances with Cappella Romana.
He began studies of Byzantine Chant at age 14 under musicologist Alexander Lingas at Holy Trinity Greek Orthodox Church in Portland. In 1996 and 1999, he furthered his studies in Greece under Lycourgos Angelopoulos, director of the Greek Byzantine Choir and Protopsaltis (first cantor) at Agia Irini (St. Irene) Church in Monastiraki, Athens. In 2000, Boyer lectured and sang at the Liturgical Singing Seminar in Santa Rosa. At the 2001 Western States Diocese Greek Orthodox Church Music Federation Conference, he directed the Byzantine Chant Schola in liturgical performances of his own transcriptions and English adaptations of the Byzantine melodic tradition. Under Boyer's direction, these settings have been recorded and released on CD by the female vocal group Eikona. In 2002, he led the University of California Chamber Chorus in performances of his own transcriptions for the Berkeley Festival and Exhibition. In the 2003-04 academic year, he worked as research assistant to Dr. Lingas on a general historical survey of the Byzantine musical tradition at the Institute for Advanced Study in Princeton, and chanted as assistant to Protopsaltis Dr. Yioryos Bilalis in Jamaica, New York. Since then, he has returned to Athens to study advanced theory and orthography with renowned cantor and musicologist Ioannis Arvanitis, and to sing once again with Angelopoulos' choir at Agia Irini.
Boyer continues to produce original and adapted settings of chant in both Post-Byzantine and Western notations.  He now serves as principal editor for Cappella Romana, composing, transcribing, adapting and compiling Byzantine music in the received tradition, including the scores for the critically acclaimed recording The Divine Liturgy in English, which presents the Divine Liturgy of St. John Chrysostom sung in Byzantine chant in the English language.
In March 2006, Boyer was appointed to the position of Protopsaltis of the Greek Orthodox Metropolis of San Francisco by His Eminence Metropolitan Gerasimos. From 2000-2010, he was associate conductor and assistant director of Bay Area Classical Harmonies, and Artistic Director of the Josquin Singers. From 2007-2010, Boyer served as Protopsaltis and Director of Liturgy at Annunciation Greek Orthodox Church in Sacramento, California. An alumnus of University of California, Berkeley, he continues to sing on a regular basis with Cappella Romana. John has spoken at the conferences of the American Society for Byzantine Music and Hymnology as well as the Axion Estin Foundation, and he is also the director of the Koukouzelis Institute for Liturgical Arts, an outgrowth of the educational aims of his role as Protopsaltis of San Francisco. He is presently completing a Masters of Divinity at Holy Cross Greek Orthodox School of Theology, where he composed the English-language scores for their recent CD release, "All Creation Trembled: Orthodox Hymns of the Passion Service."